Wishing you a Shana Tovah, a very Happy New Year from Beber Camp
Rosh Hashanah, the Jewish New Year, begins this year on Sunday evening, September 25, the first day of the month of Tishrei. While outside of Israel some observe the holiday for one day and others observe it for two days, in Israel it is observed for two days (unlike many of the holidays that are observed in the diaspora for two days, but in Israel for only one). Rosh Hashanah is not just a big party as the secular new year is celebrated here on January 1. Rosh Hashanah has tremendous importance to the Jewish people. It commemorates the creation of the world. It is the beginning of a ten-day period of reflection, known as the Days of Awe, which culminates in the observance of Yom Kippur, the Jewish Day of Atonement. This Rosh Hashanah begins the year 5783 for the Jewish people.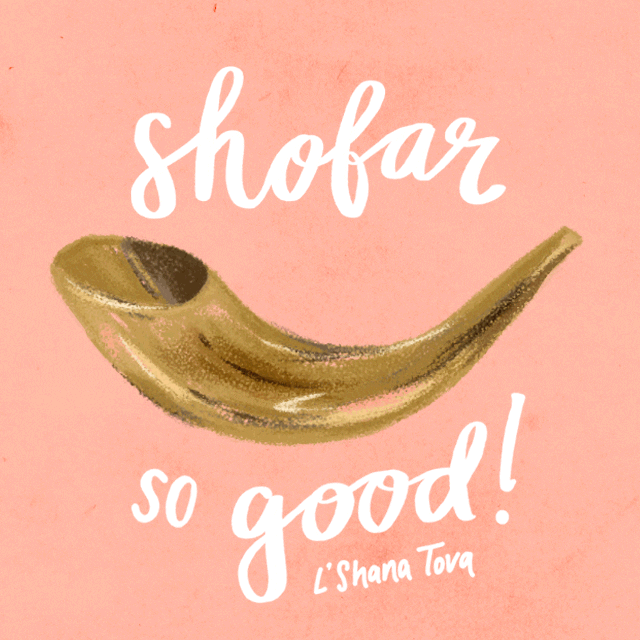 The shofar (ram's horn) is blown daily during the month of Elul, leading up to the month of Tishrei, the month when Rosh Hashanah begins. The shofar is a call to repentance and a reminder to Jews that God is our ruler. Four sets of notes are played on Rosh Hashanah: 
tekiah

, a long blast; 

shevarim

, three short blasts; 

teruah

, nine staccato blasts; and 

tekiah gedolah

, a very long blast. 
For that reason, Rosh Hashanah is also known as Yom Teruah – the day of the sounding of the shofar.
There are so many wonderful traditions associated with the observance of this holiday. We light candles (as we do for every holiday) to welcome in Rosh Hashanah. We eat apples and honey for a sweet new year. On the second night, we eat a new piece of fruit, something we haven't eaten since last Rosh Hashanah. We attend synagogue and we gather together as a family to eat some delicious meals. We eat round challahs which symbolize the circle of life as well as the crown we might imagine G-d wears as our ruler and we dip our Challah in honey. Some Jews practice a custom known as tashlich ("casting off"), in which they throw pieces of bread (which symbolizes our sins) into a flowing body of water while reciting prayers. On Rosh Hashanah it's customary to wear something new. Do you have some family traditions you observe every Rosh Hashanah? What makes this holiday special for your family?
At Beber Camp, we are always seeking ways to help us connect to our Jewish identity. Rosh Hashanah offers a unique opportunity to begin to reflect on the past year and to think about who we want to be as we enter a new year. These Ten Days of Awe, between Rosh Hashanah and Yom Kippur are a time for us to reflect on ourselves as individuals and on how we can improve individually and as members of a community. Every Shabbat at Beber Camp, we spend time with our bunkmates and counselors in Mikkud, when we reflect on our week and have some meaningful conversations about what it means to be Jewish. These Ten Days of Awe are really just one long Mikkud. We encourage parents and children to take this opportunity to connect and talk about what they have done well this past year and what they would like to work on in the coming year. 
On Rosh Hashanah, we greet each other with "L'shana Tovah" which means "to a good year." This is a shortened version of the traditional Rosh Hashanah salutation "L'shanah Tovah Tikatevu" ("May you be inscribed for a good year".) We also greet each other with "Shana Tova U'Metukah," which means "A Good and Sweet Year."
Here are some things you can do together as a family to make Rosh Hashanah meaningful:
Go apple picking and make some apple treats to serve during Rosh Hashanah. Check out these healthy and delicious

apple recipes

.

Make a honey cake to serve or send to someone. Try out this

recipe

.

Bake and braid a round Challah. There are so many easy and delicious challah recipes to choose from. Google and find the one that looks best to you, or you can even defrost frozen bread dough and learn to

braid or shape it into a round challah

.

Make New Year Cards for family and friends or for residents of a local Jewish senior center/home.

On one of the days of Rosh Hashanah, take a walk to a body of water and throw some pieces of bread into the water, talk about letting go of the negative things we have done this past year, and focus on the good things we can do in the coming year.

Decorate Mason Jars or other small jars and fill with honey to give as gifts.

Go to the store to find an unusual fruit that no one in your family has eaten recently and serve it on the second night of Rosh Hashanah. You can make the

Shehecheyanu blessing

over it. Have you ever tried star fruit, dragon fruit, lychee, or pomegranate?
The year-round staff at Beber Camp wish you all a Shana Tova U'Metukah; we wish a sweet, happy, healthy, and prosperous new year to you and your families!